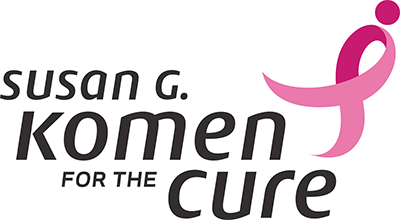 About The Susan G. Komen Foundation
Fulfilling
the
Promise
Nancy G. Brinker promised her dying sister, Susan G. Komen, she would do everything in her power to end breast cancer forever. In 1982, that promise became Susan G. Komen for the Cure® and launched the global breast cancer movement. Today, Susan G. Komen is the boldest community fueling the best science and making the biggest impact in the fight against breast cancer. Thanks to events like the Komen Race for the Cure, we have invested almost $2 billion to fulfill our promise, working to end breast cancer in the U.S. and throughout the world through ground-breaking research, community health outreach, advocacy and programs in more than 50 countries.
Progress
in
the
Fight
Against
Breast
Cancer 
Since 1982, Komen has played a critical role in every major advance in the fight against breast cancer – transforming how the world talks about and treats this disease and helping to turn millions of breast cancer patients into breast cancer survivors. We are proud of our contribution to some real victories:
More early detection and effective treatment– Currently, about 70 percent of women 40 and older receive regular mammograms, the single most effective screening tool to find breast cancer early.  Since 1990, early detection and effective treatment have resulted in a 34 percent decline in breast cancer mortality in the U.S.
More hope –In 1980, the 5-year relative survival rate for women diagnosed with early stage breast cancer (cancer confined to the breast) was about 74 percent. Today, that number is 99 percent.
More research – The federal government now devotes more than $850 million each year to breast cancer research, treatment and prevention (compared to $30 million in 1982).
More survivors – Currently, there are about 3 million breast cancers survivors, the largest group of cancer survivors in the U.S.